Baltictech Conference 2019 will take place in the Pomeranian Science and Technology Park in Gdynia.

Pomeranian Science and Technology Park (PSTP) was established in 2001 in Gdynia from initiative of Pomeranian Technology Centre and Gdynia City Hall. PSTP is the perfect habitat for businesses and institutions of the global knowledge economy.

PSTP is located on 6 hectares in the very centre of Gdynia.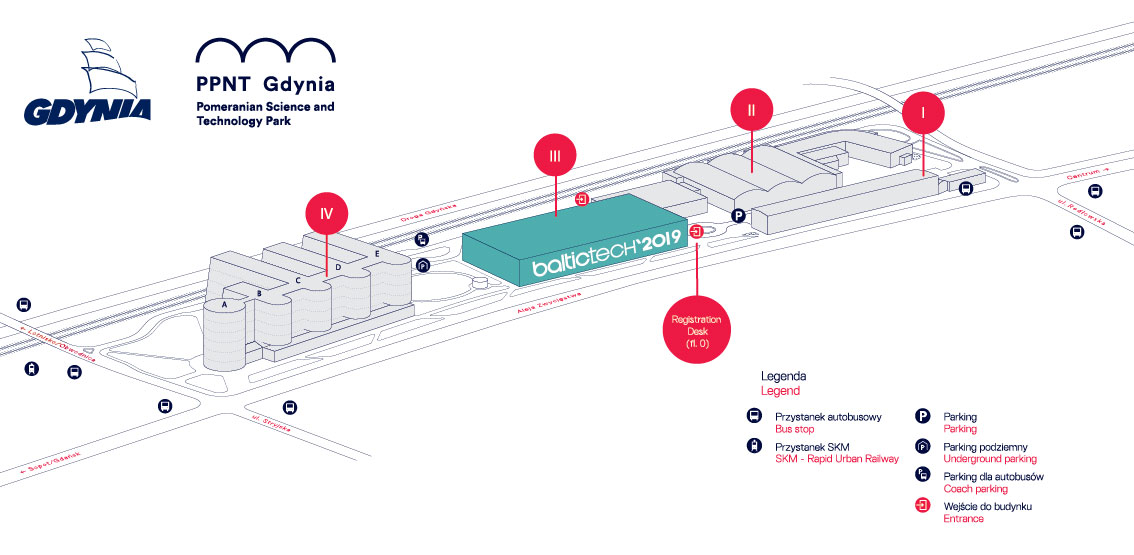 HOW TO GET
PPNT Gdynia is easily accessible by taxi
by car:
Pomorski Park Naukowo-Technologiczny Gdynia
aleja Zwycięstwa 96 / 98
81-451 Gdynia POLAND
by train:
The area of ​​the Park is located by the SKM Gdynia Redłowo station, a short walk from the PKM Stadion station which enables convenient access by rail. The nearest long-distance train stations are Sopot and Gdynia Główna.
by bus:

Nearest bus stops:
Centrum Nauki Experyment | bus lines: 21, 23, 24, 26, 29, 105, 125, 152, 321, 326, 710, 740, G, N10, N30, R, S, Z
Redłowo SKM - Park Technologiczny | bus lines: 21, 23, 24, 26, 27, 29, 121, 134, 180, 203, 321, 326, 700, G, N10, N30, R, S, Z
by plain:
The PKM journey between the GDN airport terminal and Gdynia Stadion station takes only 25 minutes.